October, 2009
There are so many great things happening career-wise this year. My second Christy Bristol Astrology Mystery, WHERE ANGELS FEAR, was published in April. The cover is retro and sexy, a new image for this gal! Kudos to my publisher, Billie Johnson, for bringing my "bad girl" out!
The "official" launch was on my birthday, June 14. I invited friends who have been supportive throughout my writing career to enjoy cake and each other's company at the Carnegie Museum in Hanford. But, the book was actually presented at the Hanford BookFest in April.
| | |
| --- | --- |
| | Launch party cake |
| | |
| --- | --- |
| Me, Kate Anderson and Toni Weymouth at the Carnegie Museum. | |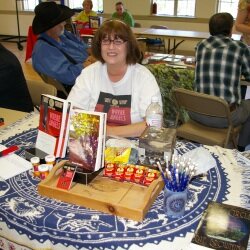 The BookFest was put on by the Kings County Library and the Hanford Senior Center. The venue was donated, American Legion members set up tables and kept water available. Forty authors from around the San Joaquin Valley participated. One author came as far as Oregon, one from the Mojave Desert and one from the Pacific Coast. It was a free event for the public. Many other small towns in the area are now considering putting on their own author events.

| | |
| --- | --- |
| Here I am introducing San Joaquin Valley's local authors Sheree Petree, Bonnie Hearn Hill and astrologer Hazel Dixon Cooper. | |
The Public Safety Writers Association continues to grow. This year author Betty Webb and forensic handwriting expert and author Sheila Lowe joined us in June at the Vegas Conference. Oak Tree Press, the house I'm now with, was well-represented by five new authors and publisher Billie Johnson.
| | |
| --- | --- |
| | On a panel with promotion diva Marilyn Meredith at the PSWA conference. |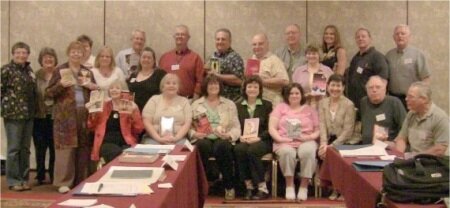 Conference group photo of some of the members of the Public Safety Writers Association. I'm front and center.
People think small towns are boring, but when a mobster came to visit my town of Lemoore, people didn't know what to think! Henry Hill, whose life was depicted in the movie "Goodfellows," joined my writing group for dinner. He gave us all autographed posters featuring Ray Liotta who played Henry in the movie. There was also a booking photo of Henry on the poster.
This is what makes mystery writing so much fun—you never know WHO you'll meet!
| | |
| --- | --- |
| | Me with mobster Henry Hill, who the movie "Goodfellows" was based on. Ray Liotta played the role. |
| | |
| --- | --- |
| Ladies from the Friday Night Writes critique group, Lemoore. Left to right: June Rodriguez, Jackie Larson, Sunny Frazier and Sarah Simas. We dined with mobster Henry Hill and he gave us signed "Goodfellow" movie posters. | |
Older news pages: