April 2006
My new anthology, Seven By Seven, just came out, and you wouldn't believe where's it's being sold!
CANADA
GREAT BRITAIN
GERMANY
FRANCE
SOUTH AFRICA
Contact me if you're interested in purchasing a copy ($12). I've been given 100 copies to sell to friends and family.

My story, "The Importance of Being Ernest" is up on audio at the KPVR site.
The man who read it got the right tone, that of a third-rate detective sent to find the last manuscript of Ernest Hemingway. It took 2nd place in Writers Journal and I actually got fan mail! The incredible thing about all this is that they were adament that they wouldn't publish mysteries, then turned around and asked me for a story after reading Valley Fever. Now they're asking for another story for next year's agenda.
To listen, click here, then scroll down to March 1.
March 2006
Me at the Mendenhall Glacier, Alaska.
I have lots of exciting news to tell and a new book to promote!

In late August, I went on a cruise to Alaska with family members. There was a mystery discussion in the ship's library on our first day at sea. I attended and met some wonderful mystery fans and another published writer. The ship's librarian requested a copy of my book, so "Valley Fever" is now floating among the icebergs.

NEWN Magazine had this to say about one of my stories: "If there is such a thing as a literary murder mystery, Sunny Frazier's 'Life is a Cabernet' is it." The story appeared in the Winter 2006 issue. I'm very proud of the story and plan to submit it elsewhere.


I traveled to San Luis Obispo to read my story, "La Llorona," at the Nightwriters meeting in January. The dark, Hispanic fable received an honorable mention in this year's contest. Kathleen Strasser, my friend and fellow writer, traveled with me to enjoy the camaraderie and celebrate with cake.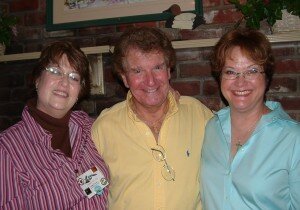 Me, Thomas B. Sawyer, and Kathleen Strasser.
A touch of Hollywood came to the Valley when Thomas B. Sawyer, head scriptwriter for "Murder, She Wrote," paid a visit to our Sisters in Crime Chapter in February. He presented me with a signed copy of one of the scripts, titled "Programmed for Murder."

But the big news I want to share is that I was selected as one of seven writers to submit stories for the "Seven By Seven" anthology. Authors had to write a flash fiction story on each of the seven deadly sins. I believe my seven stories are some of my best writing to date. Tony Burton, editor of the Crime and Suspense ezine, gave us killer deadlines in order to have the book out by May '06. You can order the book through this website by sending me an email.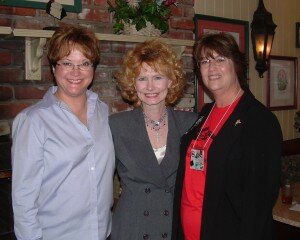 Kathleen Strasser, Dr. Cynthia Lea Clark, and me.
I'm very involved with the Crime and Suspense ezine. It's an exciting new venue for writers and mystery readers. I do reviews and I correspond with other writers who subscribe to the group. Please check it out at my Links page.
My newest release:
Seven by Seven
"A collection of forty-nine fascinating flash fiction pieces about the Seven Deadly Sins, written by seven deadly authors: Sunny Frazier, B.J. Bourg, Kimberly Brown, Deborah Elliott-Upton, John M. Floyd, Gary Hoffman and Frank Zafiro. Edited by Tony Burton." To order, email sunny69@comcast.net .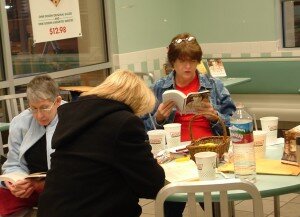 Me at the city-wide read of "To Kill a Mockingbird."