December 2006
Tony Burton of Wolfmont Publishing and I are announcing that FOOLS RUSH IN will be available on Dec. 16th at high noon, Georgia time. The first six orders Tony receives will get a free natal horoscope done by me. There is also a discount coupon in every book for a natal horoscope. Futurescopes are offered on the website: www.wolfmont.com

The book is $12 and Tony has Paypal.
September 2006
The big news is that my first novel, FOOLS RUSH IN will be published soon by Wolfmont Publishing. I'm very excited about the marketing strategy we have planned for promotion. The book will have a coupon for a natal horoscope, which I will do (and I don't use a computer generated one!). The publisher is also offering free natal horoscopes to the first 6 people who buy the book at the site, www.wolfmont.com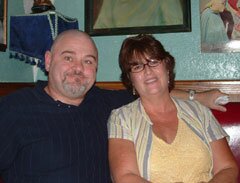 With publisher Tony Burton, Wolfmont Press, meeting in Georgia
In addition, I'm going to do a drawing for a free natalscope from this website once a month, starting in November. Just email me at sunny69@comcast.net and put "Horoscope Drawing" in the subject line. I will need your gender, birth date, birth time (approx.), place of birth, and please let me know if you want your Mars and Venus examined (that's sex, folks). I'll draw a name each month and contact the lucky person. If you enter once, your name stays in the drawing every month. Exciting, isn't it?

I've been doing some traveling. My friends, Rhonda and Bill Watson, sent me a plane ticket to Georgia for my 55th birthday so I could meet my publisher, Tony Burton. We had dinner with his wife at a fun Italian restaurant. My friends have been supportive of my career from my first published story.

I went to the Los Angeles Times Festival of Books this year with my friend, Christine Ruano. Thousands of readers, the beautiful UCLA campus, and the best weather LA has ever had! I saw many of my favorite authors and met new ones. The LA Chapter of Sisters in Crime was a favorite hangout. Those ladies are terrific!
| | |
| --- | --- |
| | |
| Los Angeles Times Festival of Books, UCLA campus | Literary signpost, LA book fest |
I also manned the table at the San Luis Obispo book fest with the Central Coast Sisters. Again, beautiful weather, a great setting in front of the mission, and good company, Kathleen Strasser and Victoria Heckman. I sold all the copies of SEVEN BY SEVEN that I'd brought with me.
| | |
| --- | --- |
| | |
| Manning the SinC booth at the San Luis Obispo book event with author Victoria Heckman | With author Denise Hamilton (Jasmine Trade) at SLO book event |
The GONE COASTAL anthology by Seven Sisters Press should be out very soon. Publishers Karen Kavanagh and husband Jim gave us all a sneak preview of the cover at the SLO book fest.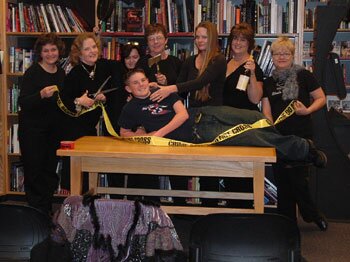 Gone Coastal authors

Hope you enjoy the photos, please check out the book cover, and don't forget to enter the horoscope drawing!

| | |
| --- | --- |
| | |
| Joanne Fluke, LA festival | Denise Hamilton, Naomi Hirahara, and Harley Jane Kozak, LA festival |
| | |
| --- | --- |
| | |
| Earlene Fowler and Thomas Perry | Michael Connelly |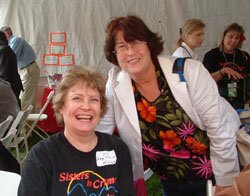 Author Gay Kinman and me,
LA book fest
| | |
| --- | --- |
| | |
| Robert Crais and T. Jefferson Parker | Harlan Coben |
| | |
| --- | --- |
| | |
| Patricia Smiley | Earlene signing the festival poster |
With Dylan Schaffer, author of Misdemeanor Man