June 2005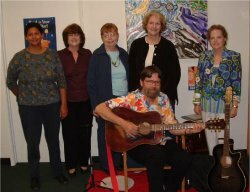 The owner of Centaur Bookstore, myself, Marilyn Meredith, Cora Ramos, JoAnne Lucas and our background music
One of the thrills of being in the mystery community is networking with authors. All my life I've admired authors the way others might admire movie stars. I'm a fan and I imagine I will always be awestruck.

This is a terrific time in my life. Through writing for the San Joaquin Sisters in Crime newsletter and booking authors for the club as well as the Fresno County Library, I've been in contact with many authors I admire.


J.A. Konrath, author of WHISKEY SOUR and BLOODY MARY has committed to an author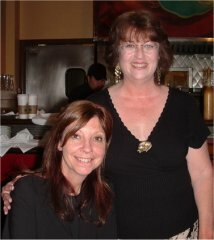 Me with author Cara Black, who writes the Paris series
event in November. Barry Eisler of the "RAIN" series has been very enthusiastic about meeting the members of our chapter. Simon Wood, DRAGGED INTO DARKNESS and ACCIDENTS WAITING TO HAPPEN put in an appearance at our June meeting. And Dylan Schaffer, MISDEMEANOR MAN and I WRITE THE WRONGS, as well as Harley Jane Kozak, DATING DEAD MEN, are coming to Fresno in October for a library conference.

You can find their websites in my links section.

As for my own writing career, one of my stories will be read on Valley Writers Read in 2006. There is a download to hear the story-and no, I'm not reading it. It's a male viewpoint and I think a man should read it. When it comes out, I will send you all a link to hear it on your computer.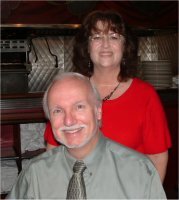 Me with criminalist Dr. Eric Hickey
Several anthologies that have accepted my stories are in the publishing process. As soon as they are in print, I will let everyone know.

I'm being groomed for the presidency of our Sisters in Crime chapter. Carrie Padgett, our current president, been working with me. She will be a hard act to follow, but I have a good board behind me.


Carrie and I took a road trip to the coast to participate in an author event with the Central Coast Chapter of Sisters in Crime. I am a member of that chapter as well. My goal is to network with them and become "Sister" Sisters.
| | |
| --- | --- |
| | |
| With author Simon Wood | With author Gay Toltl Kinman |
If any of you would like a free copy of our Poison Pen newsletter, contact me or go on the link in my section to see the chapter website. Or, request by mail at:

San Joaquin Chapter Sisters-in-Crime, PO Box 11539, Fresno, CA 93773-1539

&nbsp&nbsp&nbsp&nbsp&nbsp